Supply phillips wafer head self drilling screws factory quotes
Phillips Round Collar Head Self-drilling And Tapping Screws
NEWSTARWDH

CHINA

7-35 DAYS

3000 TONS
The drill tail screw is a kind of wood screw. The drill tail screw is a screw with a self-tapping drill head at the front end of the screw, also called a self-drilling screw. According to the different types of drill tails, it can be divided into: round head rice / cross / plum, countersunk head (flat head) / rice / cross / plum, hexagonal Huashi, round head Huasi (large flat head), trumpet head and so on.
Phillips Round Collar Head Self-drilling And Tapping Screws
Product description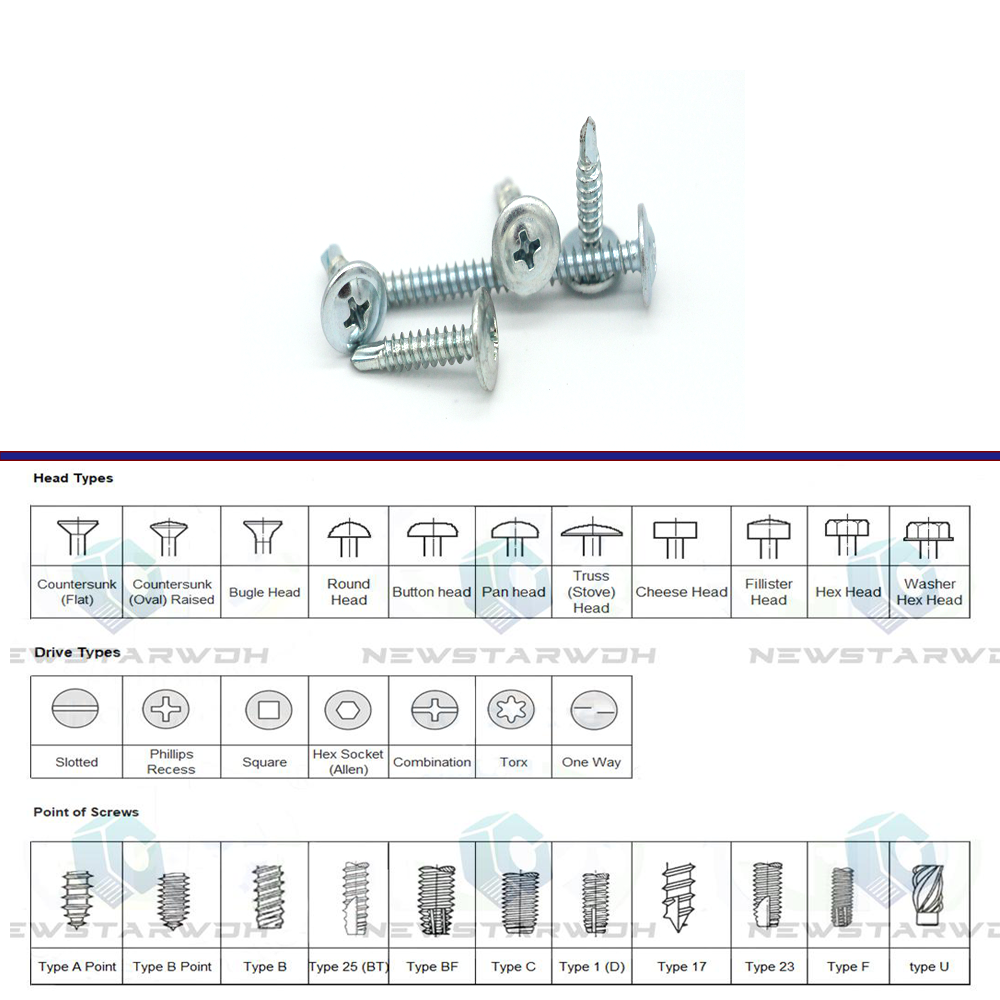 | | |
| --- | --- |
| Product name: | Phillips Round Collar Head Self-drilling |
| Standard: | ASME B18.6,DIN7504K,DIN7504P,DIN7504N |
| Material: | Carbon Steel, Stainless Steel |
| Length: | 8-12cm |
| Head type: | Round Collar Head |
| Drive type: | Phillips |
| Brand Name | NEWSTARWDH |
| Place of origin | China(Mainland) |
| Port | Qingdao or according to requirement |
| Mark | According to customer's requirement |
| OEM | Available |
| Notice: | Please lets know the Size, quantity, Material or Grade, surface, If it is special and Non-standard products, please supply the Drawing or Photos or Samples to us |
Our advantage
1. One-stop shopping;
2. High quality;
Competitive price;
3. Timely delivery;
4. Technical support;
5. Supply Material and Test Reports;
6. OEM
7. Samples for free
Common points between self-tapping screws and self-drilling screws
The body is threaded and can be self-tapping.
The difference between self-tapping screws and self-drilling screws
1. Difference in use: Self-tapping screws are used on materials with low hardness such as non-metal or soft metal (such as color steel plate). It can be fixed on the material to be fixed by its own thread. The fixed body "drills, squeezes, presses, and taps" the corresponding threads to make them closely match each other. The tail screw is mainly used for fixing the steel tile of the steel structure, fixing on the thin plate and the like.
2. the difference in usage: when the self-tapping screw is screwed in, the corresponding internal thread is formed by extrusion. No need to punch, tap, complete the operation at one time, but it is not recommended to drill multiple times, which is easy to damage the hole or slip. When the tail screw is used, it does not need auxiliary machining, and can be drilled, tapped and locked directly on the material, which greatly saves the installation time.
3. the difference in appearance: self-tapping screws are generally pointed, coarse thread, hard texture, with a certain degree of taper, in order to "self-tapping", but can not drill, but the head of the screw thread There is a drill bit that can be drilled.
Who We are?
NEW STARWDH INDUSTRIAL CO.,LTD supplies the best fastener product solutions and quality fastener products,Our core products cover ASME/ANSI, DIN, JIS, ISO, GB and other standard products, relying on the company's strong technical team, equipment, resource integration capabilities, including: Bolts, Nuts, Machine screws, Self tapping screws , Self drilling screws, Thread rod, Washers, Anchor bolts and other products. We welcome the customization of our products and have a complete customized production system to meet the different needs of different customers for fastener products.
Quality control
our company strictly complies with ISO9001 system. All our products are subjected to strict test and inspection in each process by the workers periodically, starting from the raw materials delivered to the factory.
We also accept customization order according to your samples and drawings
If you have other questions or concerns, please feel free to contact us.