China hex washer head screw customized quotes
Hexagon Washer Head Self Tapping Screw
NEWSTARWDH

CHINA

7-35 DAYS

3000 TONS
Hexagon flange head tapping screws are also called; hex belt with self-tapping screws, hexagonal Phillips wood screws, cross recessed brain self-tapping screws, hex flange head wood screws, hex cross flange bolts.

This is a nail designed specifically for wood and can be used in place of machine screws. Use a screwdriver to screw directly into the wooden component. Used to fasten a metal (or non-metal) part with a through hole to a wooden component. This connection is also a detachable connection. Simple, convenient and durable.
Hexagon Washer Head Self Tapping Screw
Product Parameters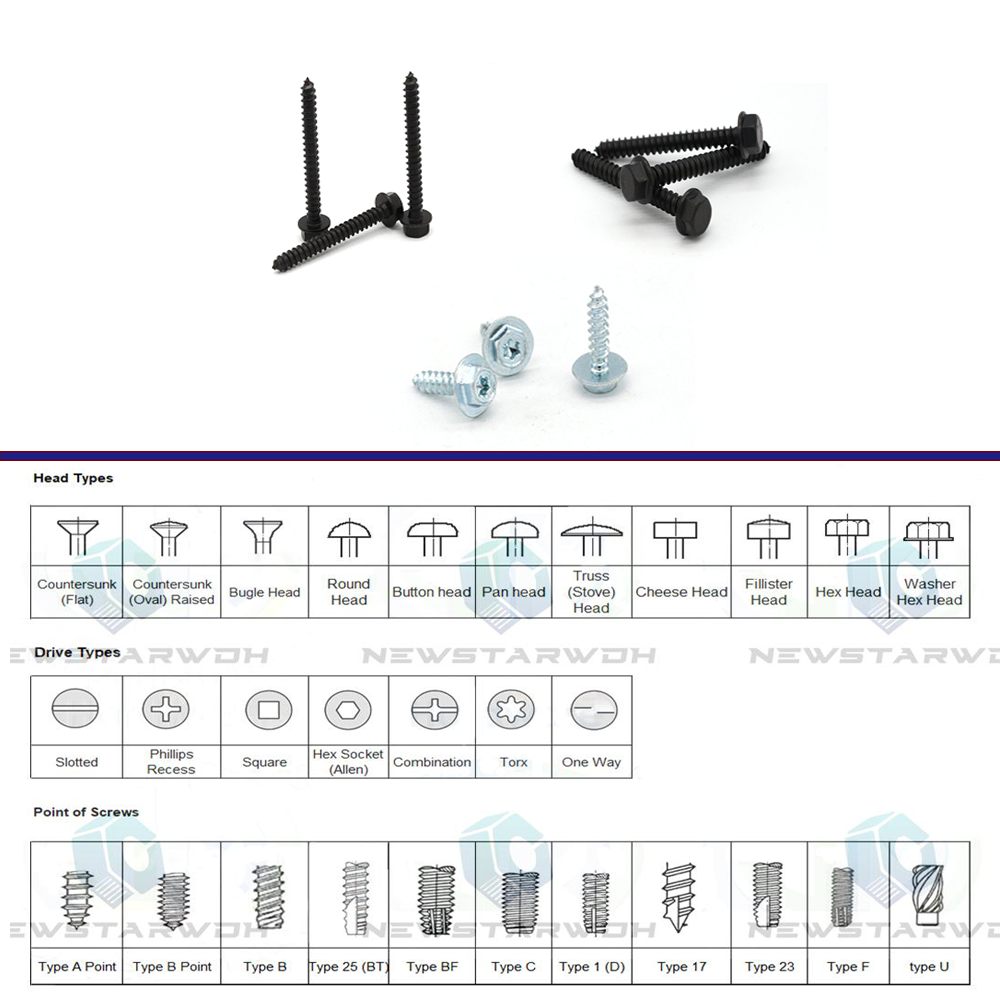 Standard:

ASME B18.6, JIS B1124 , DIN6928, DIN7973

Size:

#4(2.8)-1/2"

Length:

10-180mm (3/8"- 7")

Head type:

hex, hex washer head

Drive type:

hex, hex washer

Screw type:

AB, B, BP, BF, BT, C, D, F, G, T, U

Material:

Carbon steel C1018, C1022, CH22A (+ heat treatment),

Thread:

M, UNC, UNF

Finish:

Plain, Zinc Plated(Clear/Blue/Yellow/Black), Black oxide, Nickel, Chrome, H.D.G

Packing:

bulk in cartons (25kg Max.)+wood Pallet or according to customer special demand

Application:

· Structural Steel; Metal Buliding; Oil&Gas; Tower&Pole; Wind Energy; Mechanical Machine; Automobile: Home Decorating

Equipments:

· Caliper, Go&No-go gauge,Tensile test machine, Hardness tester, Salt spraying tester, H.D.G thickness tester, 3D detector, Projector, Magnetic flaw detecter

Supply Ability:

5000 tons per month

MinimumOrder:

500kgs for each specification

Trade Term:

FOB/CIF/CFR/CNF/EXW/DDU/DDP

Our advantage:

One-stop shopping;

High quality;

Competitive price;

Timely delivery;

Technical support;

Supply Material and Test Reports;

OEM

Samples for free

Notice:

Please lets know the Size, quantity, Material or Grade, surface, If it is special and Non-standard products, please supply the Drawing or Photos or Samples to us
Description
The hexagonal flange head self-tapping screw refers to a head with a hexagonal head, a flanged head, a self-tapping screw with a self-tapping type at the tip, and a self-tapping screw with a thread.
Hexagonal washer head self-tapping screws
1. Generally made of carbon steel (99% of total production). Stainless steel can also be used.
2. Hexagonal washers with self-tapping screws must be heat treated. Carbon steel self-tapping screws must be carburized, and stainless steel self-tapping screws must be solid solution hardened. In order to achieve the mechanical properties and performance properties required for the self-tapping screws.
3. Hexagonal washers Self-tapping screws have high surface hardness and good core toughness. That is, "inner soft outside just." This is a major feature of the performance requirements of hexagonal washers with self-tapping screws. If the surface hardness is low, it will not be screwed into the base; if the core has poor toughness, it will not be used if it is broken. Therefore, "internal soft outer steel" is a very important requirement for hexagonal washers with self-tapping screws to meet the performance.
4. Hexagonal washers Self-tapping screws require surface protection treatment, usually electroplating. Some products have to be phosphate treated (phosphating), such as wallboard self-tapping screws are mostly phosphating.
5. Production by cold heading process. It is recommended to use a high speed cold heading machine and a high speed thread rolling machine or a high speed planetary thread rolling machine. The emphasis on high speed is to ensure product quality. Only the head of the self-tapping screw produced by the high-speed machine is formed, and the thread quality is high.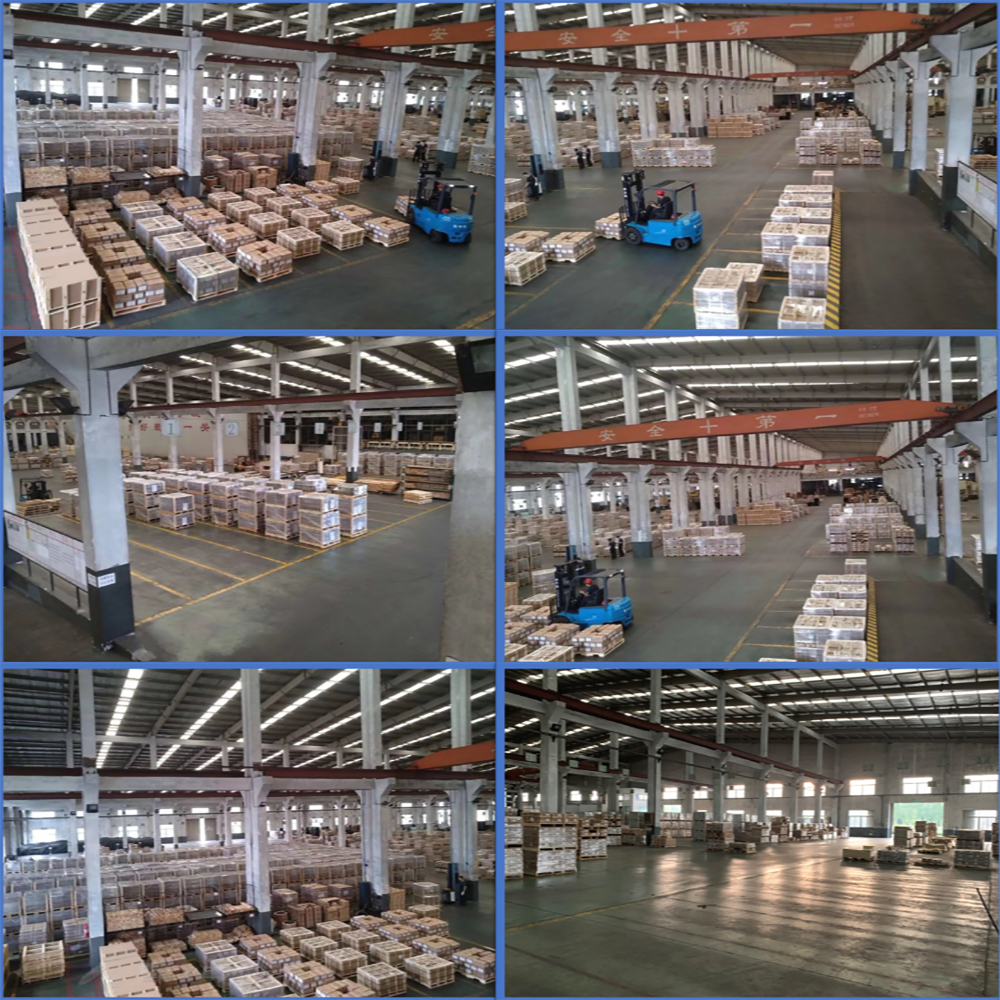 Test Report
If you need, the test report form the third part is available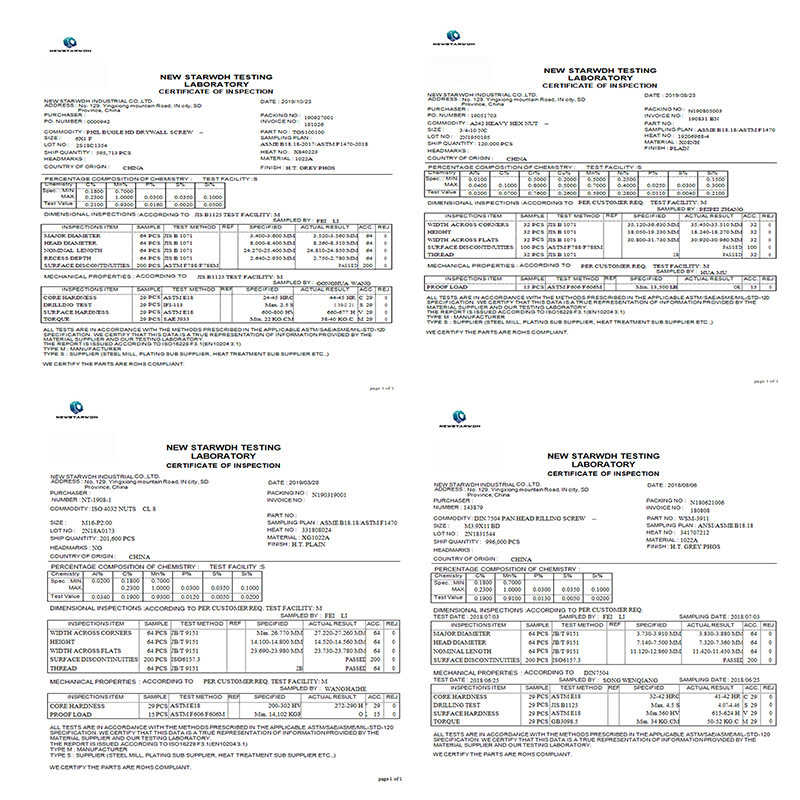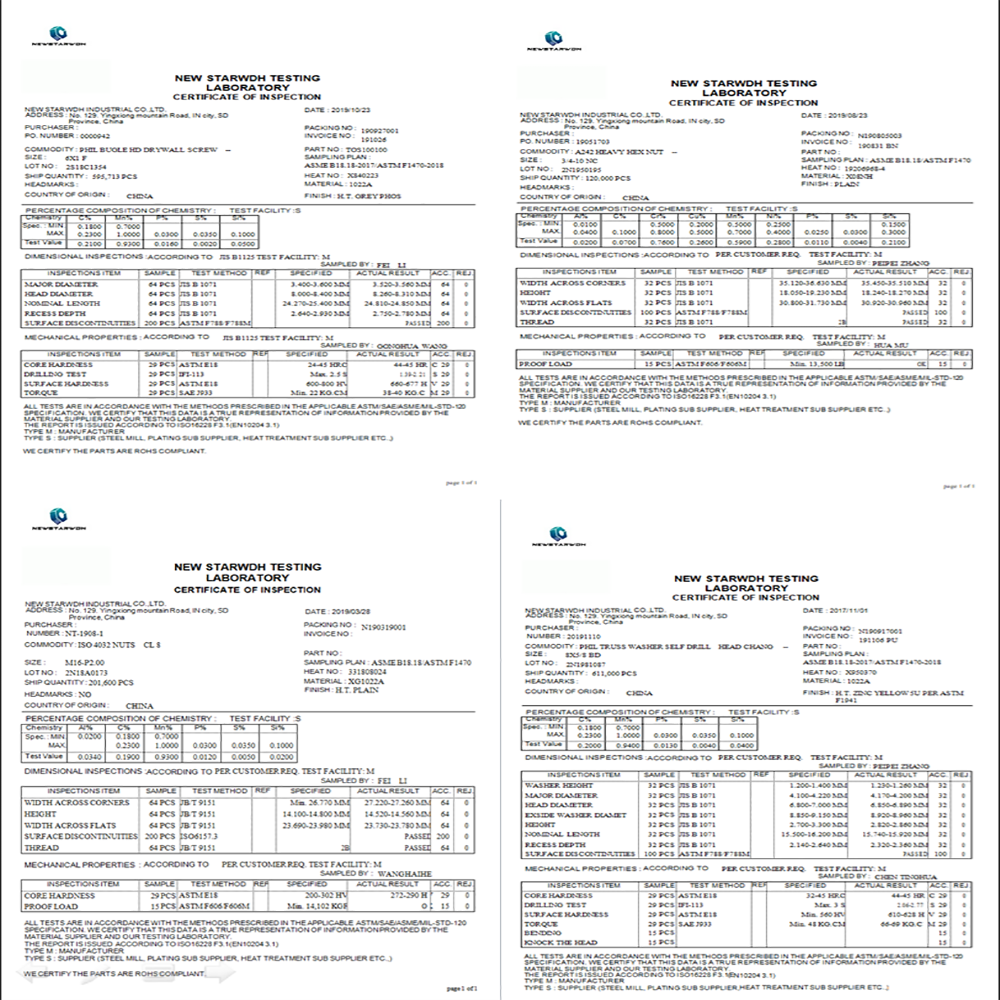 Packaging Details:
A. Bulk in cartons(≤25KG)on wood pallet 36CTN/wood Pallet
B. Box + Carton + wood pallet , carton≤ 18kg , 48CTN/wood Pallet
C. According to customer special demand.