Hastelloy C276 Hex Bolts
Hastelloy C276 Hex Bolts
NEWSTARWDH

CHINA

5-35 DAYS

1000 TONS
Product name: Hex Bolts
Material: Hastelloy
Standard: ASME/ANSI B 18.2.1, IFI149,DIN931, DIN933, DIN960, DIN961, DIN558, ISO4014, ISO4017,ISO8765, ISO8676, JIS B1180
Measurement system: INCH, Metric
Size: 1/4"-3", M5-M64
Thread: M, UNC, UNF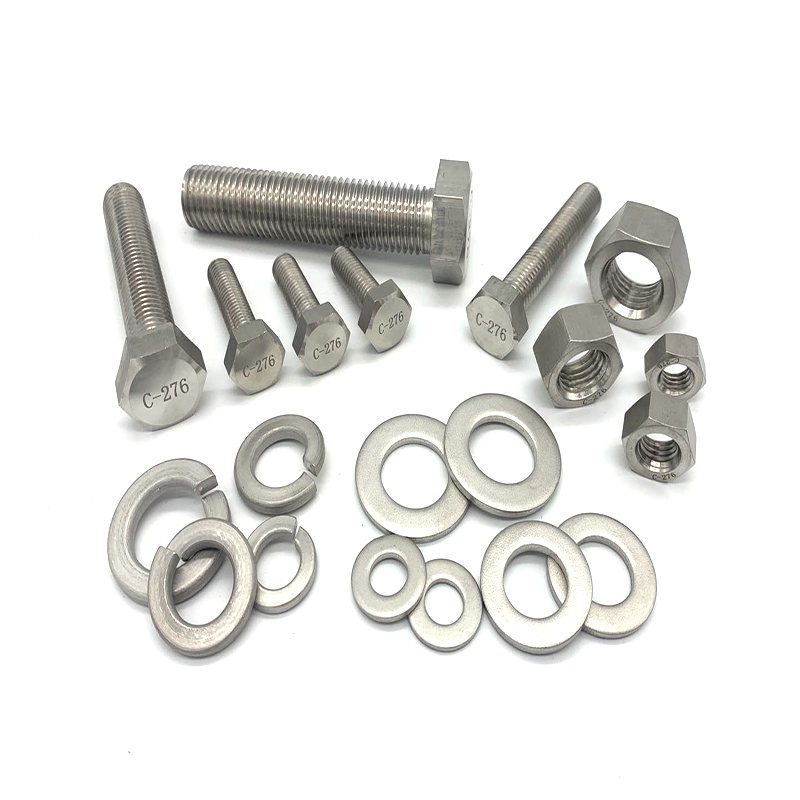 Hastelloy C-276 physical properties:
Density 8.9g / cm3
Melting point 1325-1370 ℃
Hastelloy C-276 The minimum mechanical properties of the alloy at room temperature
Alloy state Tensile strength Rm N / mm2 Yield strength RP0.2 N / mm2 Elongation A5%
Solid state 690 283 40
Hastelloy C-276 features
1. In the oxidation and reduction state, it has excellent corrosion resistance to most corrosive media.
2. Excellent resistance to pitting corrosion, crevice corrosion and stress corrosion cracking.
Metallographic structure of Hastelloy C-276
C276 is a face-centered cubic lattice structure.
Hastelloy C-276 corrosion resistance:
C276 alloy is suitable for various chemical process industries containing oxidizing and reducing media. The higher content of molybdenum and chromium makes the alloy resistant to chloride ions, and the tungsten element further improves its corrosion resistance. C276 is one of the only materials that can resist the corrosion of humid chlorine gas, hypochlorite and chlorine dioxide solution. This alloy has significant corrosion resistance to high concentration chloride salt solution (such as ferric chloride and chlorine Copper).
Hastelloy C-276 Application areas Application areas:
C276 alloy has been widely used in chemical and petrochemical fields, such as components and catalytic systems that come into contact with organic compounds containing chloride. This material is particularly suitable for use in high temperature, inorganic and organic acids mixed with impurities (such as formic acid and acetic acid), seawater corrosive environment.
Pulp and paper industry, such as digestion and bleaching containers; scrubbers, reheaters, wet steam fans, etc. in FGD systems; equipment and components operating in acid gas environments; reactors for acetic acid and acid products; sulfuric acid condenser ; Methylene diphenyl isocyanate (MDI); production and processing of impure phosphoric acid.