China phillips truss head screw factory wholesale
Truss Head Screws
NEWSTARWDH

CHINA

7-35 DAYS

3000 TONS
Product name: Truss Head Screws
Standard:ASME/ANSI B18.6 ,DIN967,
Size:#5 - 3/4"; M3 – M20
Material:Carbon Steel, Alloy Steel, Stainless Steel,
Length:10-180mm (3/8"- 7")
Head type: pan framing
Drive type: Phil, slotted, Phil & slotted combination, hex socket, Pozl
Finish:Plain, Zinc Plated(Clear/Blue/Yellow/Black), Black oxide, Nickel, Chrome, H.D.G
Truss Head Screws
Product Parameters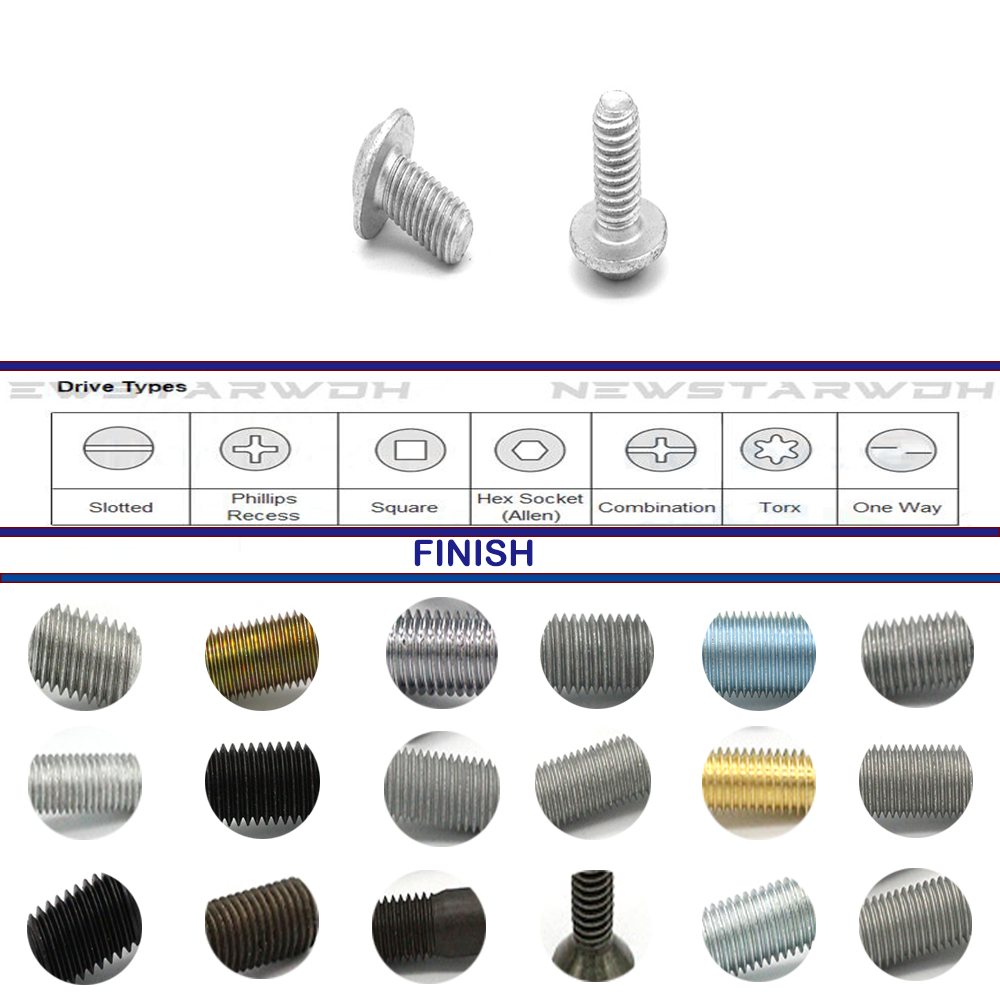 Product name:Truss Head Screws
Standard:ASME/ANSI B18.6 ,DIN967
Size:#5 - 3/4"; M3 – M20
Material:Carbon Steel, Alloy Steel, Stainless Steel,
Head type:truss head, wafer head, pan head
Brand Name: NEWSTARWDH
Drive type: hex socket
Port:Qingdao or according to requirement
Finish:Plain, Zinc Plated(Clear/Blue/Yellow/Black), Black oxide, Nickel, Chrome, H.D.G
Packing:bulk in cartons (25kg Max.)+wood Pallet or according to customer special demand
Application:Structural Steel; Metal Buliding; Oil&Gas; Tower&Pole; Wind Energy; Mechanical Machine; Automobile: Home Decorating
Supply Ability:3000 tons per month
Minimum Order:500kgs for each specification
Delivery time:Normally in 7-35 days, according to quantity
Stainless steel truss head screw performance

High temperature resistance
Because the hardness of stainless steel itself is relatively strong, the fasteners after production have strong anti-oxidation ability, and can not work normally under high temperature, and will not burn too much interference at high temperature, if it can be manufactured after At the same time passivation, the effect will become better and better.
Higher rate of electricity
Compared with carbon steel wire rods, we can see that the electric screw rate of stainless steel truss head screws is five times higher than that of carbon steel. There is a coefficient of expansion in the standard part. After testing, we know that if the temperature is higher, the expansion coefficient of the stainless steel truss head screw will be improved.
Force
For stainless steel truss head screws, the load that can be withstood is comparative. Although it can not be compared with high-strength bolts, it also meets the needs of normal people.
Mechanical behavior
In mechanical properties, we can know that many of them have a great relationship with stainless steel wires. For example, it does not rust and has high corrosion resistance. These are closely related to the nature of stainless steel. With the continuous development of standard parts, these mechanical properties have become stronger and stronger.
We also accept customization order according to your samples and drawings
If you have other questions or concerns, please feel free to contact us.