China countersunk raised head screws factory wholesale
cross-recess-countersunk-raised-head-screws
NEWSTARWDH

CHINA

7-35 DAYS

2000 TONS
Product name: Countersunk Raised Head Screws
Standard:ASME/ANSI B18.6 ,DIN966,ISO7047,JIS B 1111
Size:#5 - 3/4"; M3 – M20
Material:Carbon Steel, Alloy Steel, Stainless Steel,
Length:10-180mm (3/8"- 7")
Head type:raised countersunk / oval
Drive type:Phil, slotted, Phil & slotted combination, Pozl
Finish:Plain, Zinc Plated(Clear/Blue/Yellow/Black), Black oxide, Nickel, Chrome, H.D.G
Countersunk Raised Head Screws
Product Parameters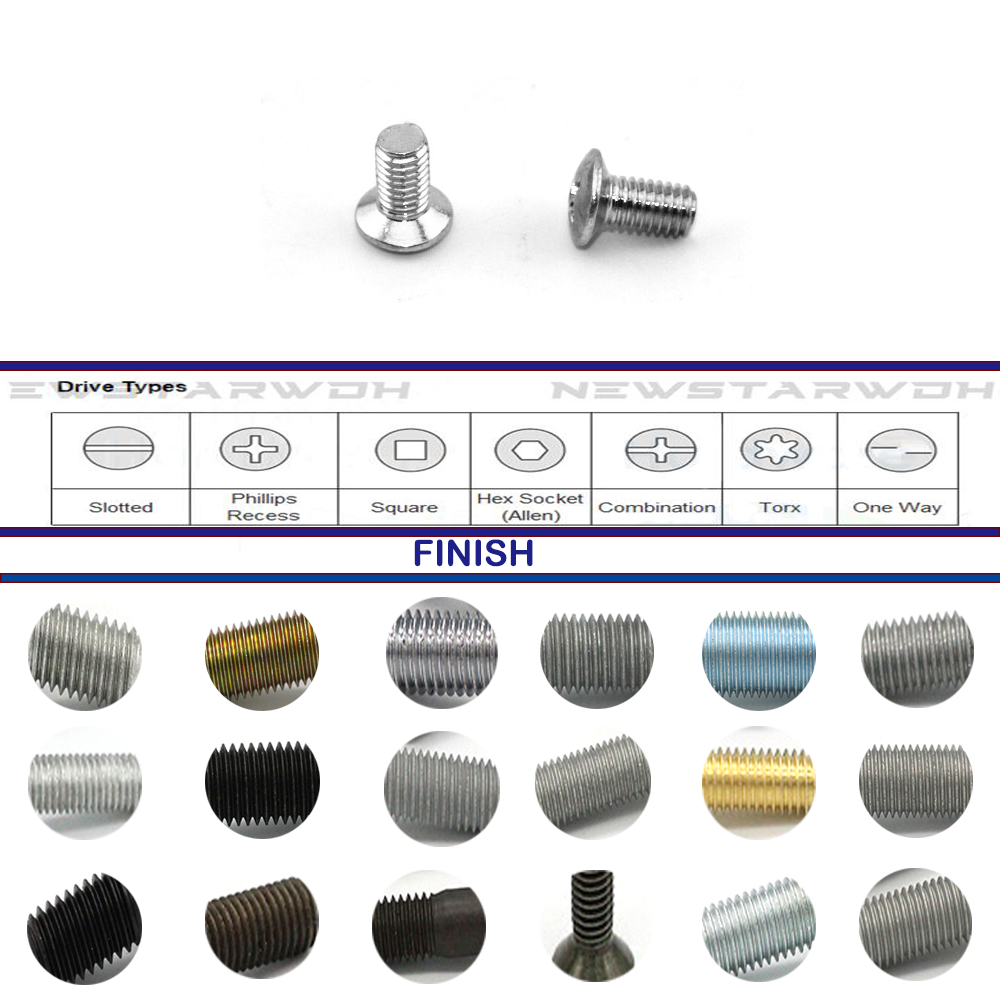 Standard:

ASME/ANSI B18.6 ,DIN966,ISO7047,JIS B 1111

Size:

#5 - 3/4"; M3 – M20

Material:

Carbon Steel, Alloy Steel, Stainless Steel,

Length:

10-180mm (3/8"- 7")

Head type:

Oval

Drive type:

Phil, slotted, Phil & slotted combination, hex socket, Pozl

Finish:

Plain, Zinc Plated(Clear/Blue/Yellow/Black), Black oxide, Nickel, Chrome, H.D.G

Packing:

bulk in cartons (25kg Max.)+wood Pallet or according to customer special demand

Application:

Structural Steel; Metal Buliding; Oil&Gas; Tower&Pole; Wind Energy; Mechanical Machine; Automobile: Home Decorating

Equipments:

Caliper, Go&No-go gauge, Tensile test machine, Hardness tester, Salt spraying tester, H.D.G thickness tester, 3D detector, Projector, Magnetic flaw detecter

Supply Ability:

3000 tons per month

MinimumOrder:

500kgs for each specification

Trade Term:

FOB/CIF/CFR/CNF/EXW/DDU/DDP

Our advantage:

One-stop shopping;
High quality;
Competitive price;
Timely delivery;
Technical support;
Supply Material and Test Reports;

OEM
Samples for free

Notice:

Please lets know the Size, quantity, Material or Grade, surface, If it is special and Non-standard products, please supply the Drawing or Photos or Samples to us
Description
| | |
| --- | --- |
| Product name | Countersunk Raised Head Screws |
| Place of origin | China(Mainland) |
| Brand Name | NEWSTARWDH |
| Port | Qingdao or according to requirement |
| Delivery time | Normally in 7-35 days, according to quantity |
| MOQ | 500kgs for each specification |
| Mark | According to customer's requirement |
| OEM | Available |
Why choose us?
a) Attention to detail, quality assurance
b) Wide sales network, excellent service, good reputation
c) Team professional, technical specialization, quality control
d) Full service network coverage, fast market response, fast delivery
e) The products are genuine, honest and trustworthy, and create more favorable offers for customers.
f) Large scale, large sales volume, many products, and wide application
g) Provide customers with correct and safe product training and consultation, product preservation and value-added
Countersunk head screw
On the surface of the mounting hole on the connector, a 90 degree tapered socket is machined, in which the head of the countersunk screw is flush with the surface of the connector. Countersunk screws are also used in some cases with semi-circular head flat screws, which are more aesthetically pleasing and can be used to allow a little protrusion on the surface. The screw acts as a connection between two or more objects and is an indispensable necessity in daily life or industrial manufacturing. Countersunk head bolts (with groove), countersunk head bolts
Countersunk head screw usage
The countersunk screws are mostly used in places where the surface of the parts cannot be raised after installation. The parts to be fastened are thick and thin. The so-called thick, that is, the thickness of the parts to be fastened is larger than the head of the countersunk head screw. Thickness, after the screw is tightened, some of the screw threads do not enter the threaded hole. In this case, the countersunk screw can be tightened. There is usually also a case where the thickness of the fastened part is less than the height of the head of the countersunk head screw, which is common in mechanical equipment in sheet metal parts, such as the hinge of the case and the connection of the door and the case; the sheet metal of the device The connection of the cover to the device, etc. Due to the small thickness of the part, the fastened sheet metal part, the screw through hole completely becomes a tapered hole. In this case, when the countersunk screw is tightened, the screw head is not a tapered surface pressing sheet metal part. Instead, the bottom of the screw head is crushed to the top of the threaded hole. Although the screw is felt to be tightened, the sheet metal is jammed instead of being pressed. In this case, although the screw is felt to be tightened, The gold pieces are indeed not tightened. This is a very common situation.